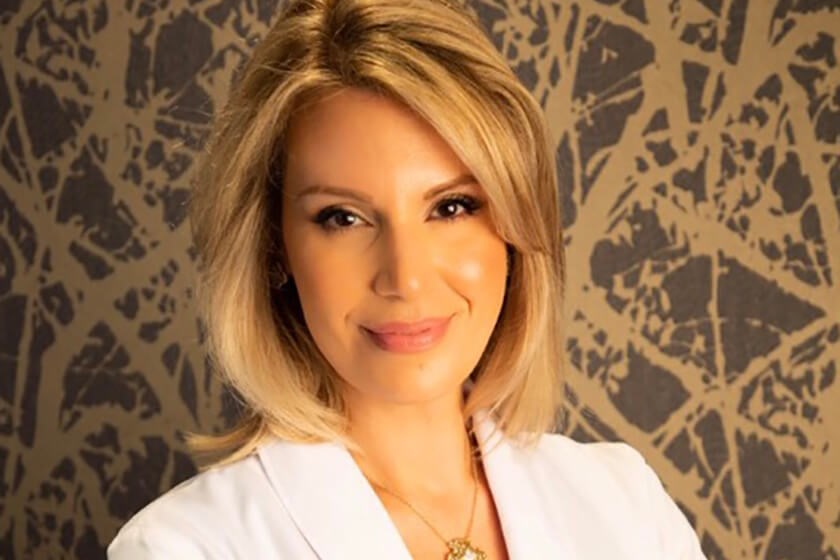 Dr. Catherine Papasakelariou is the founder and board-certified dermatologist at Houston Premier Dermatology in Houston, TX. She is passionate about both general and cosmetic dermatology. She enjoys helping patients with a variety of skin concerns, including acne, aging skin, skin cancer, and psoriasis. She further has expertise in cosmetic procedures, all with an eye for a natural aesthetic. In addition to her extensive experience and knowledge, Dr. Papasakelariou is known for her excellent bedside manner, her caring nature, and her ability to fluently speak Spanish and Greek. Dr. Papasakelariou grew up in the Houston area, and she is proud to continue helping her fellow neighbors and community. In 2019, she was selected as a Texas Super Doctor Rising Star.
Specialties and Expertise
Dr. Papasakelariou is trained and experienced when it comes to treating a variety of skin conditions and addressing cosmetic concerns. She loves helping patients emphasize their natural beauty. To this end, she strives to create a personalized treatment plan that addresses a patient's present and future concerns. Dr. Papasakelariou takes a conservative approach while using neuromodulators such as Botox and Dysport as well as injectables such as Juvederm, Voluma, Vobella, Vollure, Restylane, and Sculptra.
Dr. Papasakelariou graduated with her bachelor's degree in biology from The University of Texas at Austin. Following this, she received her Master's degree in virology and gene therapy from the prestigious UT Houston MD Anderson Cancer Center. Following graduate school, Dr. Papasakelariou completed both medical school and dermatology residency at The University of Arkansas for Medical Sciences. Throughout her education, Dr. Papasakelariou served as co-chief resident, received several notable awards, and has authored multiple papers.
Dr. Catherine Papasakelariou is proud to be a member of the following societies:
American Academy of Dermatology
Houston Dermatological Society
Texas Dermatological Society
Women in Dermatology
When she is not at work, Dr. Papasakelariou enjoys spending time with her husband and three children. They enjoy family nights and traveling to visit relatives abroad.
Reviews
"Dr. P is very knowledgeable. I like how she provides education on the diagnosis and also provides treatment options available for the condition. She comes off like a really good supportive friend. I initially felt uncomfortable about my skin concerns and she was able to assure me how normal of a thing which I am being treated for. I highly recommend her! My only regret is that I didn't see her sooner!"
J.M.
Google
"Dr. P is great at listening to the patients issues when it comes to the issues pertaining to the patients skin. Dr. P was great at giving me a few suggestions when it came to my skins personal needs. Nice office setup as well. Knowledgeable Doctor when it comes to hormonal & skincare needs. I'd definitely recommend her."
U.G.
Google
"I have been coming to Dr. P for a year and she is excellent. The office staff are wonderful. I highly recommend her."
A.D.
Google
"I don't even know where to start, Dr P is a blessing, she's amazing. Her attitude is everything and she's gorgeous. I was so embarrassed of my condition, she made feel at ease and gave me some nice words of encouragement and reassured me that it will be fixed and I couldn't help than break down, because she was so real. I recommend her to everyone. Best dermatologist in Houston, periodt!!!!"
M.B.
Google
"Excellent care doesn't come close to doing justice to the experience I have every time I visit Houston Premier Dermatology. The staff are all wonderful! Everyone is so kind and friendly. I recently had trouble with my pharmacy failing to refill my prescription, and they went above and beyond to fix the pharmacy's mistake. Dr. P is always delightful to speak with, and she carefully listens to all my concerns with the greatest sensitivity. Houston Premier Dermatology is the best dermatology clinic in town."
S.S.
Google
Related Posts